Stella 2018 Shortlist Announced
Stella 2018 Shortlist Announced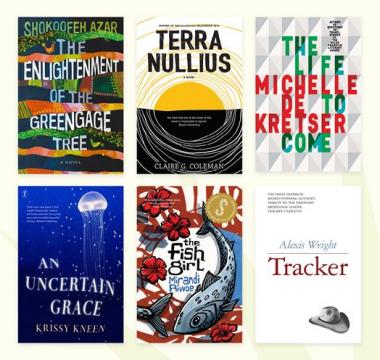 March 8th - on International Women's Day, the Stella Prize is delighted to announce the six extraordinary books by Australian women on the 2018 Stella Prize shortlist.

The 2018 Stella Prize shortlist is:

The Enlightenment of The GreengageTree by Shokoofeh Azar

Terra Nullius by Claire G. Coleman

The Life To Come by Michelle de Kretser

An Uncertain Grace by Krissy Kneen

The Fish Girl by Mirandi Riwoe

Tracker

by Alexis Wright

Fiona Stager, chair of the 2018 judging panel, says:

"The six titles shortlisted for the 2018 Stella Prize showcase the incredible breadth of talent in the writing by women in Australia today. The personal interweaves seamlessly with the political as these authors investigate the past, examine the present and re-imagine our future. Ideas about family, identity in all its forms, and politics at both its most profound and intimate levels are themes that connect these six diverse, engaging and original books."

This year each shortlisted author will receive $3000 thanks to the support of the Ivy H Thomas and Arthur A Thomas Trust managed by Equity Trustees.

And for the third year running, each of the shortlistees also receives a writing retreat funded by the Trawalla Foundation in addition to the prize money. The Stella Grasstrees Writing Retreat provides shortlisted authors with a three-week immersive retreat at a house in Point Addis on the Victorian coast, and includes associated travel expenses.

The 2018 Stella Prize winner will be announced on the evening of Thursday 12 April.