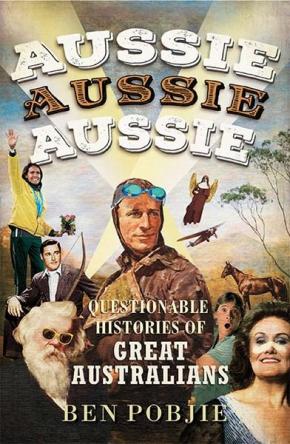 Aussie Aussie Aussie
by Ben Pobjie
Questionable Histories of Great Australians
Format

Paperback

Category

Non-Fiction

Publisher

Affirm Press

Publish Date

July 2017
Aussie Aussie Aussie celebrates the Australians who made Australia great, as well as the ones who stopped Australia from being as great as it could have been but who have ended up with their own Wikipedia pages anyway. TV columnist, comedian and history buff Ben Pobjie recaps the history of Australia from its humble beginnings as a colonial outpost to its modern-day status as a Commonwealth realm, where its people have the right to discuss and reject the idea of an actual Australian ever becoming head of state. Like any good historian, Pobjie provides an intimate sense of what it was like to be there in the moment at our nation's defining events, and with the people who made them happen. Meet Pioneers such as Charles Kingsford-Smith and Howard Florey, whose groundbreaking efforts moved the country forward; Artists and Entertainers such as Joan Sutherland and Peter Allen, who left an indelible imprint on our national psyche despite, in practical terms, doing nothing of real value; Captains of Industry such as Kerry Packer and Gina Rinehart, who shaped Australia's love affair with people who are amassing phenomenal quantities of personal wealth; Sporting Heroes such as Cathy Freeman and Don Bradman, who, by being elite athletes, helped define every other Australian as just ordinary; The Mavericks such as Chopper Read and Julian Assange, who crossed the line to show the rest of us where the line clearly was; the Lest we Forgetters such as Weary Dunlop and Albert Jacka, who occasionally made us feel like we mattered at all to anyone; and the Humanitarians who found fame by dedicating their lives to others, such as Fred Hollows and Tony Abbott.
Other titles you should consider ...
Not all products are available in all stores.