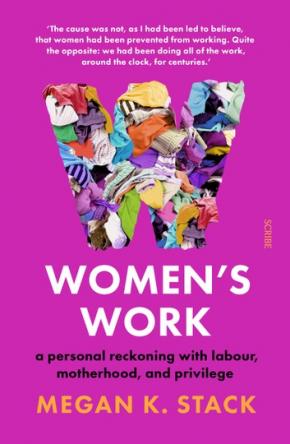 Women's Work
by Megan K. Stack
Women's Work is a stunning memoir that depicts with nuance and honesty Megan Stack's journey from scorning the household as a place where nothing interesting happens to seeing it as the forgotten cornerstone of the world.
Format

Paperback

Category

Non-Fiction

Publisher

Penguin Random House

Publish Date

May 2019
After her first book was published to acclaim, journalist Megan Stack got pregnant and quit her newspaper job to write. She pictured herself pen in hand while the baby napped in a sunbeam - so the reality of a traumatic birth and the loss of her identity in the world hit hard. When her husband went happily back to his reporting job, she was left at home with colicky Max, a household to run, and not a single moment to write. But this was Beijing, where Chinese women could provide domestic labor for a fraction of what she would pay a maid or a nanny in the United States. And sure enough, hiring Xiao Li to cook, clean, and care for baby Max gave her back the ability to work - but at what price?

Women's Work is Megan Stack's fearless, devastating account of the relationships with local women that transformed her household, her marriage, and her family during her years abroad. At the heart of Women's Work is Poonam, an Indian nanny who becomes almost a friend, until she disappears one night with no explanation. Her return dispels any sense Megan had that a woman who spends twelve hours a day in your home caring for your children is disposable or replaceable.

Megan begins meeting her employees' families, traveling to their villages, and hearing more honest accounts of their lives than the versions they gave her as their boss. She struggles to understand the global and personal implications of wages paid, services received, and emotional boundaries drawn and redrawn.
Other titles you should consider ...
Not all products are available in all stores.