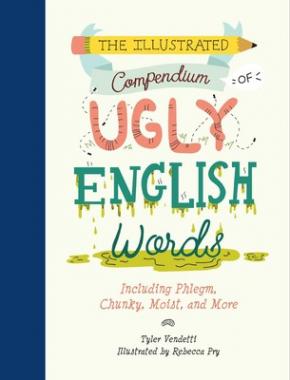 Illustrated Compendium of Ugly English Words
by Tyler Vendetti
Behold the 300 Ugliest Words in the English Language!
Format

PB

Category

Non-Fiction

Publisher

Simon & Schuster

Publish Date

October 2019
J. R. R. Tolkien once said that cellar door is the most beautiful phrase in the English language; since then it has received quite a bit of attention from poets and linguists. But what of the ugly words? This delightfully humorous volume celebrates the words that make people gag and cover their ears. Too long have these atrocious utterances gone unrecognized, nay, shunned from society. No longer! The Illustrated Compendium of Ugly English Words pays homage to the 300 worst words in existence. What makes these words ugly? It's the nature of the word's meaning, the pre-existing association the reader has with the word, or the sound and look of the word—or all three! The Illustrated Compendium of Ugly English Words catalogues the ugliness from A to Z, along with each word's pronunciation guide, definition, and origin, plus quotes demonstrating usage. Illustrations on nearly every page of this hardcover make it both a hilarious reference book and the ideal gift for anyone who can't stand the sound of words like acrid, panties, gubernatorial, ointment, and squirt. More than anything, though, this compendium can be used as a reminder that, despite all of our differences, deep down we all share the same hopes, the same dreams, and the same primal hatred for the terms that make us go, "Ugh, why would you even say that?!"
Other titles you should consider ...
Not all products are available in all stores.