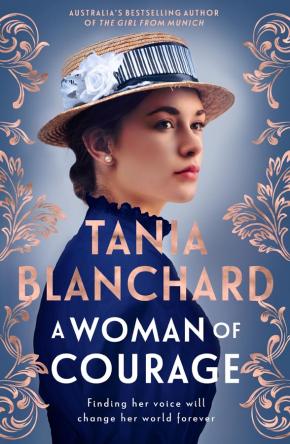 A Woman of Courage
by Tania Blanchard
A gripping, uplifting new Victorian era novel about passion, love, loss and self-discovery from the bestselling author of The Girl from Munich and Suitcase of Dreams
Format

Paperback

Category

Fiction

Publisher

Harper Collins

Publish Date

November 2023
A gripping, moving story of love, tenacity and the right to be heard by bestseller Tania Blanchard, inspired by a true story
'An exciting, inspiring tale of the women who quite literally changed the world ... Stunning' NATASHA LESTER
'A beautiful tale of courage and resilience from a born storyteller' LAUREN CHATER
'Engrossing ... A captivating and uplifting novel about passion, love, loss and self-discovery' BOOKS+PUBLISHING
1890, Northern England. Hannah Todd dreams of a future where women have the right to vote.
Fresh from her teaching studies in Durham, she joins her parents in a rural village, brimming with newly found passion and the groundswell towards women's suffrage unfolding in London. Working tirelessly to help women and children in the county, Hannah is determined to make the fight for the vote her life's work, adding her voice to the rising chorus across the nation and hopes of a new world and a new way of thinking.
But soon she must fight a new, unexpected battle - that of the yearning of her own heart. As Hannah grapples with her conflicting feelings she discovers that when power is threatened, darkness, brutality and dangerous, closely guarded secrets are never too far from the surface. How far can she go to fight for what's right?
From the exciting, progressive hive of London to the traditional villages of the rural north, A Woman of Courage rings with the strength and struggles of women at time of momentous change ... and the choices one woman must make to help forge a new future.
PRAISE FOR A WOMAN OF COURAGE
'A fresh, exciting and inspiring tale of the women who fought for their right to vote - women who quite literally changed the world. Main character Hannah is a true woman of courage, brought to life by elegant prose, meticulous research and a stunning narrative ... Bursting with charm, heart and hope' - NATASHA LESTER, New York Times bestselling author of The Three Lives of Alix St Pierre
'A timely reminder of how small acts of courage can change the world. Hannah's journey to self-discovery and her unwavering belief in the power and strength of women's independence made this a pleasure to read. A beautiful tale of courage and resilience from a born storyteller' LAUREN CHATER, bestselling author of The Winter Dress
'Engrossing historical fiction ... A captivating and uplifting novel about passion, love, loss and self-discovery. Its themes of feminist empowerment and passion-led political change are still relevant today' BOOKS+PUBLISHING
PRAISE FOR TANIA BLANCHARD
'Breathtaking ... Rich in every sight, taste and smell' Australian Women's Weekly
'Richly imagined, heartbreaking and captivating ... Outstanding historical fiction' Better Reading
'Packs an emotional punch that will reverberate far and wide' - Weekly Times
Other titles you should consider ...
Not all products are available in all stores.