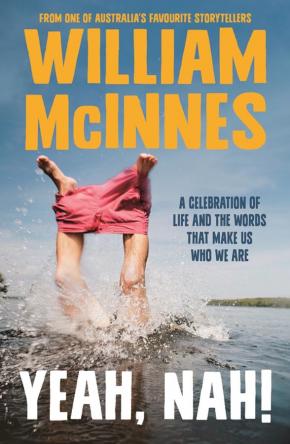 Yeah, Nah!
by William McInnes
A celebration of life and the words that make us who we are
Format

Paperback

Category

Non-Fiction

Publisher

Hachette

Publish Date

November 2023
Have you ever bunged it on?
Behaved like a drongo?Added mayo to a story?Lost your Reg Grundies?Join bestselling storyteller William McInnes as he offers his own take on our colourful and colloquial way with words. From the simpler times of childhood to today's testing (and unprecedented!) times, or when we're wasting time, enjoying sporting times or hitting the big time, Australians have a turn of phrase for every situation. Our love of plain speaking communicates the essence of the thing to our mates, to those in the know - and to those who should know better.Part memoir, part manifesto, this warm, witty, poignant and laugh-out-loud funny collection will have you thinking about what you say, how you say it and what that really says about us as a nation.
Praise for the writing of William McInnes
'Warm and engaging . . . feels a little bit like home'
Daily Telegraph
'If there is a quintessence of Australia at its best, William McInnes has distilled it'
The Age
'Warm, nostalgic, funny and undeniably Australian'
Sydney Morning Herald
Other titles you should consider ...
Not all products are available in all stores.